Boeing DPD Requirements: Three Steps to Pass D6-51991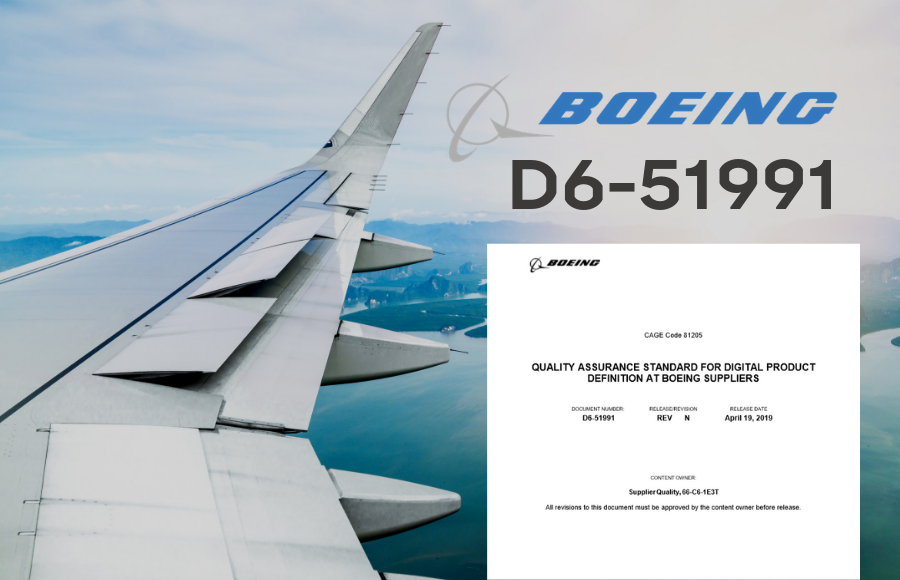 If you're an aerospace manufacturer who wants to land contracts with Boeing, you likely have questions about how to meet their DPD Requirements. Here are the steps you need to take to make sure your parts and components pass Boeing's D6-51991 Digital Product Definition (DPD) standard.
Step 1: Understand what Boeing requires of you
DPD, as it's known in the industry, is Boeing's "Quality Assurance Standard for Digital Product Definition." Boeing spells out the requirements of this standard in a document called Boeing D6-51991. Boeing publishes this standard so that the parts that suppliers manufacture for Boeing match Boeing's specifications. Here is the wording for the standard, taken word-for-word from Boeing D6-51991 Revision N:
When suppliers translate from Native CAD format to alternate formats including CATIA V4 to CATIA V5 or Native to STEP suppliers are responsible for all dataset translations and must have a clear documented process for each. The documented process must include a method to verify the accuracy of translations. Suppliers must be able to demonstrate the CAD translation process, including verification/interrogation methods used, and the ability to identify known discrepancies.
When Boeing contracts a manufacturer to produce a part, they give that manufacturer a CAD model of the part in CATIA, NX, SolidWorks, and more.
Manufacturers then take that design and translate it into a file format that their 3D software uses, whether Mastercam, GibbsCam, SurfCam, CAMWorks or other CAD/CAE/CAM/CMM programs. This is where the Boeing D6-51991 standard is needed.
Boeing's D6-51991 requires that supplier translations of their CAD models are accurate. To reach this standard, manufacturers are required to validate their translations. The goal of validation is to spot errors in translation before manufacturers start cutting metal. As far as Boeing is concerned, "If you translate, you must validate."
Step 2: Understand your process
Every manufacturing process has a workflow. Your goal before you try to meet Boeing D6-51991 compliance is to understand your hardware, your software and your workflow so that you understand the places in your process where errors can enter and where validation is necessary.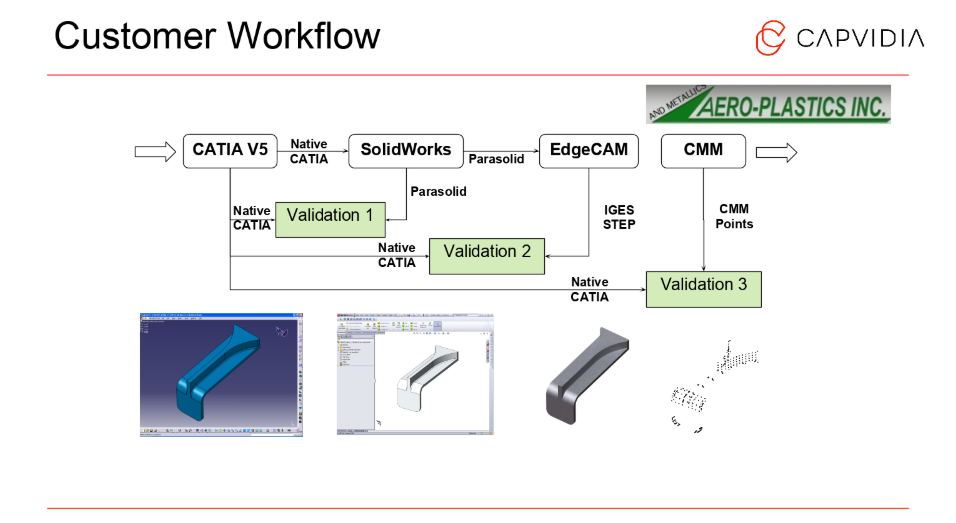 For example, take a look at this workflow for one of our clients, Aero-Plastics. As you can see, their manufacturing process starts with a CATIA V5 model that they receive from their OEM. They translate this native CATIA into SolidWorks, their 3D CAD design software. This is where the first validation takes place. The SolidWorks model is then translated into Edgecam for CNC. This is where the second validation takes place. Finally, after the part is manufactured, they compare points exported from their CMM for the third and final validation.
This manufacturer performs validations three times on a model from the time they receive it from their OEM to the time it is sent to their CMM for inspection. Only with a well-understood and documented workflow like this can you appreciate how many times you must validate your translations to meet Boeing's DPD requirements.
Step 3: Validate your translations
As you can likely appreciate by now, you can't validate your translations with the human eye. The tolerances are too small to be seen, and the risks associated with missing an error are too high. Plus, Boeing probably won't accept your method.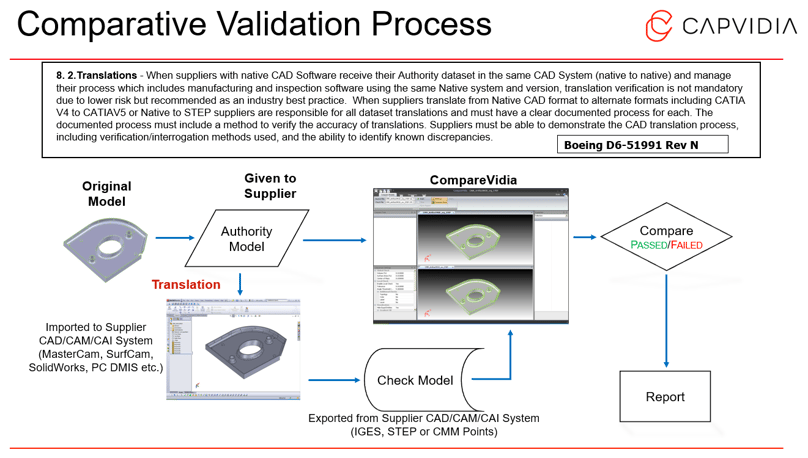 The process of validation is straightforward. Using a software tool like CompareVidia (above), you:
Load your data - the Authority ( original) model and your Check(translated version of the Authority model) model
Hit compare
Generate/Review the validation report
Validation software compares a check model against an authority model, using multiple comparison algorithms, selected based on predefined validation criteria. It then gives you a pass or a fail.
Validation reports give you detailed information on all model differences, presented graphically on the check model, typically in a structured tree form. They also automatically generate traceable reports to digitally certify compliance with quality criteria, such as Boeing's D6-51991.
These validation reports are gold. When Boeing sends their auditors to your facility to see if you meet the requirements of D6-51991, your validation report is what they ask for. Your validation report proves to Boeing that you compared Boeing's model with your translated model and that both models were the same. The result? You remain a supplier in good standing.
About CompareVidia
CompareVidia is a specialized application for comparing and validating 3D CAD models. It detects and identifies even the smallest errors or changes in geometry, topology, and annotation (including PMI), letting you reuse your CAD data with complete confidence. Learn more.
A good validation software tool (like CompareVidia) maintains the original geometric definition when it loads the Authority and Check model. This is critical, since you need to compare the models as they are originally defined. Proprietary comparison algorithms with predefined validation criteria are applied to the models to give you a pass or a fail result.
←
Back to news list