In a panel otherwise comprised of experts from Raytheon and TE Connectivity, Campbell brought a unique perspective: that of an industry vendor dedicated to making Model-Based Definition ("MBD") a practical reality for Creo users.
MBD is a technology based on creating CAD models incorporating 3D annotations (e.g. Product and Manufacturing Information, or "PMI") as the authority dataset for defining manufactured product components and assemblies (as opposed to 2D drawings.)
Capvidia, known for broad support of MBD across its product line, has developed a product to help serious Creo users more effectively make MBD-ready models: MBDVidia for PTC Creo.
While Creo 4.0, the most current version of PTC's enterprise CAD application, includes powerful tools for creating 3D PMI annotations, the process can still be time consuming and tedious. MBDVidia for PTC Creo provides tools to help:
2D-3D Synchronization does what seems impossible: it automatically transforms 2D annotations from a Creo drawing into 3D annotations and combined states in the associated Creo model. Beyond this, it provides bi-directional synchronization with consistency checks, to ensure full associativity of annotations between the 3D model and the 2D drawing. These checks identify annotation errors and potential issues with outdated design practices commonly found in legacy 2D drawings.
MBD Schema applies a template of predefined combined states, model layers, and global model parameters to any 3D annotated model. This enables companies to apply their own MBD standards to their models.
MBD Ready Check is like a spell-checker for PMI. It insures that the 3D annotated models are semantically correct, so they are "machine readable" by downstream applications (such as inspection programs.)
Export to ANSI QIF or ISO STEP AP242 transforms the model, and its annotations, into a neutral, industry-standard MBD-compatible format, for use in downstream processes. Uses best-in-class translation technology, to create well-structured, semantically correct data files.
Revision Control keeps track of Creo internal object IDs, including those of which are new, modified, deleted, and unchanged for each revision of the model. When the model is exported (currently, QIF format only), this data is included. This makes it easy for downstream processes to compare revisions, and work with just the changes, without the need to start entirely from scratch.
In addition to MBDVidia for PTC Creo, Capvidia offers a number of applications as well as a software development kit for working with QIF and STEP AP242 format data.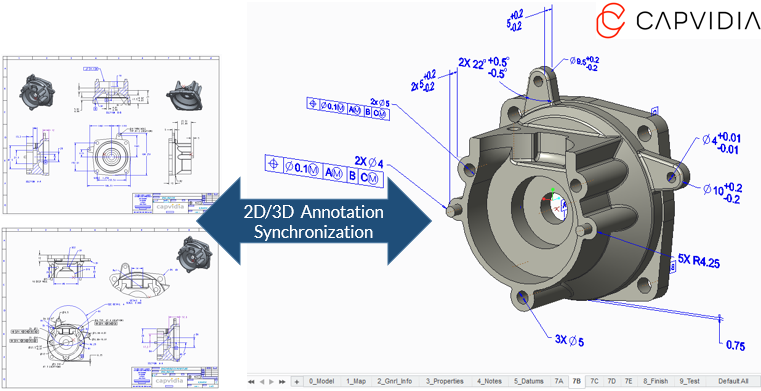 3D model with annotations derived from a Creo drawing.
←
Back to news list