PlanVidia

PlanVidia Automatically Determines the Minimum Required Planning Resources
The PlanVidia system automatically determines the minimum required resources, such as the number of technicians, vehicles, and material for daily service point operations. Projects may involve hundreds of service points that require specific resources. PlanVidia takes into account geographic locations, opening hours, technician skill level, appointment specifics, customer preferences, legal working hours, and compliances with Service Level Agreements.
PlanVidia supports your Operations Dispatcher with a streamlined graphical user interface that presents solution options, defining constraints, and available resources for optimal sourcing.
Geo-coding
The geo-coding automatically converts an address (e.g. 1000 Rue Royale 15) into a uniquely defined point on a digital map (North 50°50'52", East 4°21'46"). The geo-coding algorithm automatically resolves address definition inconsistencies like spelling errors and missing house number information.
The manual geo-coding is fully interactive through a graphical interface using drag-and-drop operations. The geo-coding module correctly locates thousands of clients on a digital map within minutes.

Graphics Engine
PlanVidia's graphical engine is using the latest .NET technology, providing flexibility and optimal performance on local and distributed system configurations. The vector-based graphics ensures clear and sharp visualization independent from the map scale and amount of details. The graphical information is organized in thematic layers and visualized using a scale sensitive concept for the optimal display readability. Each graphical object can include both static and dynamic attributes.
Fast, scalable and detailed graphics
Multilayer visualization
Access to object properties with simple mouse click
Dual monitor support
Customizable user interface
Scalable to PDAs and portable devices
Software Features and Options
Optimization Solvers
The heart of the PlanVidia system is the multi-parameter optimization engine. The optimal solution is sought globally using the real network of roads (MultiNet Tele Atlas) considering time constraints and business logics defining the operation. The optimization is performed in global sense in the three domains simultaneously:
Time domain (respecting appointments, opening hours, working hours, breaks, etc.)
Space domain (directly on the network of roads including all traffic regulations)
Business domain (legal and operational constraints)
The optimization process starts from the description of the service operation This process is called parameterization. We use attributes to describe service points (clients), technicians (agents) and constraints of the operation (business logics). E.g., the available human resource will be defined as number of technicians, each having the following attributes:
ID / Name
Start location (address)
End location (address)
Skills (all skills technician can perform)
Working hours (start, end, lunch, etc.)
A similar parameterization is used to describe clients (service points). The information is entered into the system using standard XML templates.
Optimization Criteria
The optimization criteria are defined as hard and soft constraints controlling the solver:
Minimization of global resource
Minimization of total route length (km's)
Minimization of global operational cost
Balanced work load
Limited overtime
User-specific optimization function
Constraints - hard and soft
Operation constrained by legal working hours
Optimal number of depots (starting points)
Equal workload distribution
Loading capacity
Maximum number of clients
User-specific constraints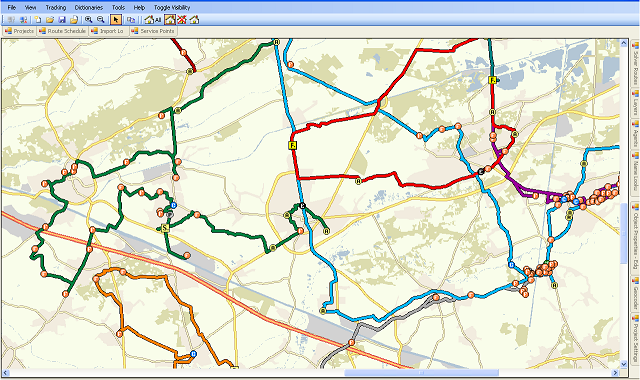 Daily operations can be planned within just a few minutes and re-planned (dynamic planning) every 1-2 hours to adjust the operation to possible delays (traffic), to include new service calls and other unpredictable parameters not considered in the original planning.
Dynamic Planning (integration with track & trace)
With PlanVidia dynamic planning, you Plan -> Communicate -> Monitor and Plan again. Dynamic planning allows to consider last minute changes and unpredictable factors such as traffic jams and delays impacting your operation. The PlanVidia system supports communication with standard track & trace systems providing information about the mobile resource position (GPS location) and status of the operation (GPRS based messaging).