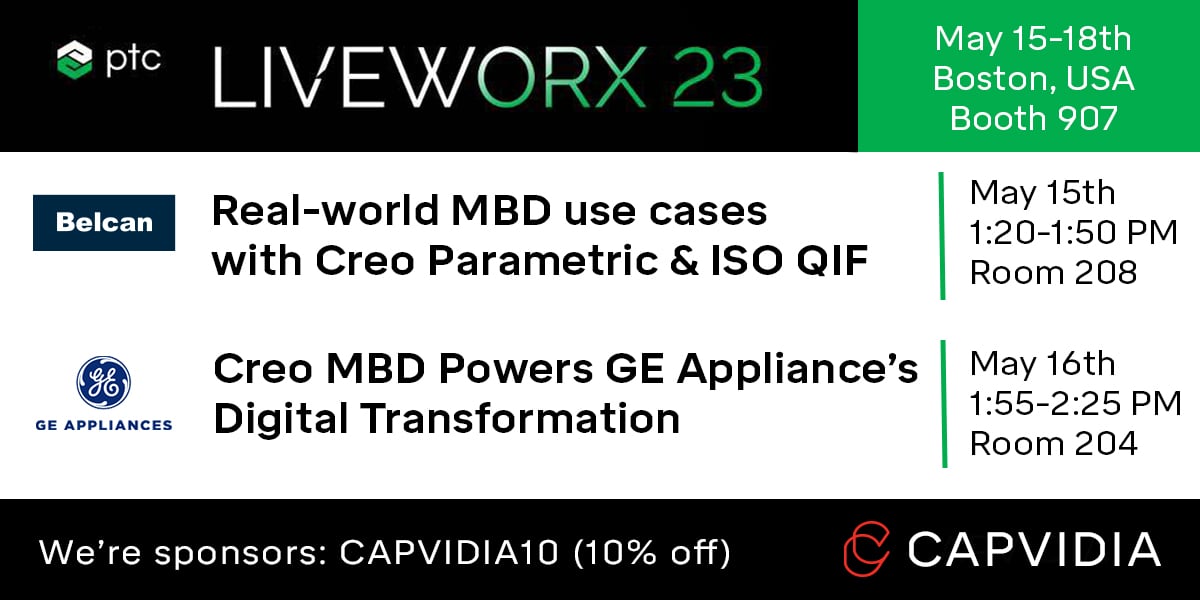 Capvidia at LiveWorx 2023
When:

May 15-18th 2023

Where:

Boston Convention & Exhibition Center, USA (map)

Booth:

#907
Capvidia will be attending PTC LiveWorx 2023 as a sponsor & presenter on all things MBD/MBE. Come by booth #907 and say hello.
Use CAPVIDIA10 during LiveWorx 2023 registration and get 10% off. Limited to first 100 registrations.
---
Capvidia and partner case study presentations on MBD/MBE
Presentation #1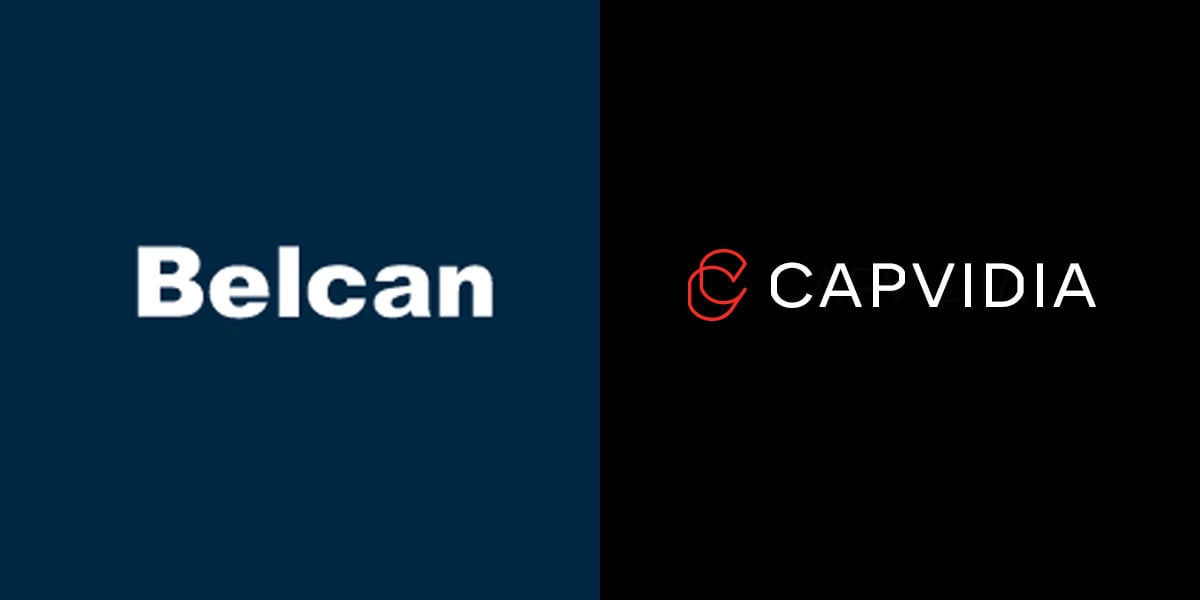 Title: Real-World MBD Use Cases w/ Creo Parametric & ISO QIF
Companies: Belcan & Capvidia
When: Monday, May 15th, 1:20-1:50 PM, Room 208
Speakers: Evan Kessick, MBE & MBD Principal SME, Belcan & Daniel Campbell, VP MBD, Capvidia.
Overview:
Model-based definition (MBD) in Creo Parametric is actively deployed by Fortune 500 manufacturers and their supply chains, providing immediate and measurable value.
You'll learn how they are leveraging Creo MBD for automating various workflows including quality (FAI, APQP, and CMM), visual inspection, and welding. We'll also discuss how Creo MBD and QIF (Quality Information Framework) work well together in providing interoperable data downstream throughout the product lifecycle, demonstrate an end-to-end MBD workflow, and provide company-wide ROI we've seen with our enterprise MBD customers.
MBD has arrived. Companies adopting an MBD/MBE (model-based enterprise) mindset are seeing short-term gains and preparing for long-term success in an era of relevance and competitiveness.
Key Take Away 1: Learn how Fortune 500 OEMs are leveraging MBD in Creo Parametric.
Key Take Away 2: Discover how Creo MBD & QIF provide interoperable data downstream.
Key Take Away 3: See examples of beginner to advanced MBD workflows.


Presentation #2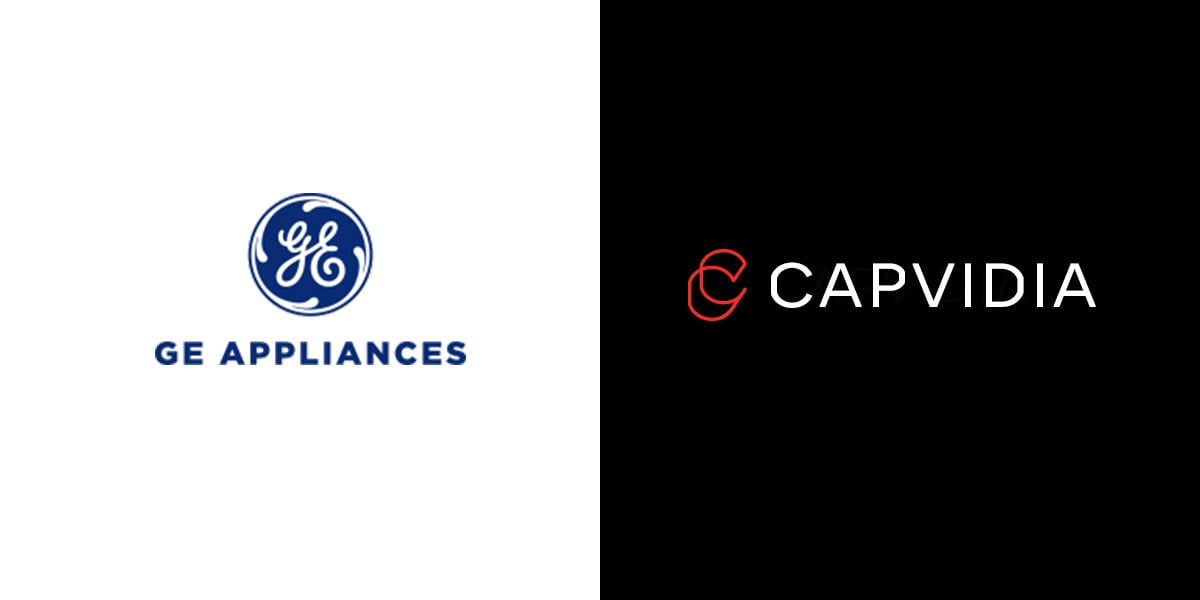 Title: Creo MBD Powers GE Appliance's Digital Transformation
Companies: GE Appliances & Capvidia
When: Tuesday, May 16th, 1:55-2:20 PM, Room 205C
Speakers: Trent Stone, Senior Design Engineer, Belcan & Daniel Campbell, VP MBD, Capvidia.
Overview:
Industry 4.0, digital transformation, digital twin, and model-based enterprise all begin with a model-based definition (MBD). MBD provides interoperable CAD data all throughout a product life cycle.
For the purpose of this presentation, MBD will be defined as interoperable CAD data with machine-readable PMI (product manufacturing information) for publishing, validating, and automating downstream.
This session will focus on GE Appliance's workflow with Creo and QIF (Quality Information Framework) that checks the quality of MBD downstream and results in a highly targeted focus on issues, reduces manual effort & reliance, and cuts down error rates by 50%. GE Appliances is a 100% MBD/MBE company providing insights and lessons for the future of digital transformation in manufacturing.
Key Take Away 1: Learn how MBD in Creo is a powerful tool for digital transformation.
Key Take Away 2: Learn why checking the quality of the MBD on your Creo model is a critical part of your success.
Key Take Away 3: Learn about the ROI that GE Appliances has seen by adopting good MBD processes and tools.

---
About Capvidia
Capvidia provides True MBD (model-based definition). Model-based definition (MBD) is the practice of having the 3D CAD model become the authoritative information source for a product's lifecycle. This is done by including semantic product manufacturing information (PMI) within the 3D CAD model that is both human and machine-readable. Innovators in digital manufacturing have seen double-digital productivity gains (up to 20%) with the adoption of model-based workflows. Learn More: www.capvidia.com.
---
←
Back to news list